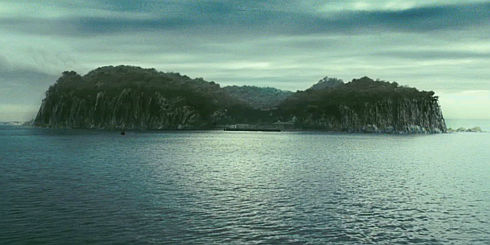 Nach «Cape Fear» hat Martin Scorsese jetzt also wieder einmal einen Horrorfilm gedreht. «Shutter Island» wird zwar als Mysterythriller verkauft, aber der Trailer in HD erzeugt schon einmal herrlich erschreckende Stimmung. Ganz toll! Einzig das Gebäude auf der Insel sieht ein wenig zu digital aus.
Die Traumbesetzung besteht neben Leonardo DiCaprio, Ben Kingsley und Mark Ruffalo auch noch aus Emily Mortimer, Michelle Williams, Jackie Earle Haley, Patricia Clarkson, Elias Koteas, John Carroll Lynch und dem wunderbaren Max von Sydow. Für die Deutschschweiz ist «Shutter Island» für den 8. Oktober angekündigt. Wer wissen möchte, woran mich die Insel im Nebel erinnert hat, klickt auf «Ganzen Artikel anzeigen». Allerdings wird dadurch womöglich schon die Pointe des Films verraten.
«Die Toteninsel» von Arnold Böcklin, dritte Version, Staatliche Museen zu Berlin.
Schreib einen Kommentar
You must be logged in to post a comment.